We offer a set of 10 beautiful hand-dyed envelopes each made of handsifted paper-mulberry washi paper from Etchu Yatsuo, Toyama Prefecture at a price per set of 4200 yen for celebratory envelopes and 3150 yen for condolence envelopes (including tax and shipping in Japan).
Please note that the inner envelopes for the celebratory and condolence envelopes are slightly different.
 

Click on the photographs for a larger picture.

 
 

Genji Incense

Bell

Heart

Pine, Bamboo & Plum

Delight

Noshi

Tea Utensil

Plums

Pair of Pine

Trilogy
 
 

ripples

islets

a white heron

a willow

white lilies

bells

grass

an autumn field

white chrysanthemums

a lotus pond
Envelops for Tips

We introduce a set of ten different design tiny washi envelopes for tips.The designs are crane, treasure bag, rabbit, clay bell, twin pines, celebration,Happy Knot, rapped pines and plum blossom. The price per set of ten is 1575 yen.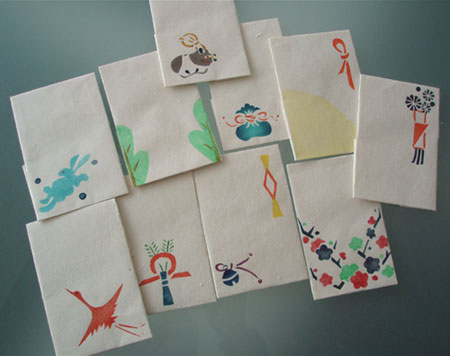 ---
(C)Copyright 2003 Johmon-sha Inc, All rights reserved.